About Us
As a team, managing partners Diane Arata Arthurs and Rolanda Kaiser Andrade make an impressive combination, both with extensive knowledge and experience in all aspects of entertainment industry related business.
Diane Arata Arthurs
Diane's circus roots go back eight generations. Following in the ancestral footsteps of her multi-talented family she instinctively joined the business, first as a member of the famed Osmani Sisters juggling act, later presenting elephants, horses, eventually adding an entire menagerie to her repertoire. Performing worldwide for 15 years, Diane decided to develop another extension of her natural artistic abilities and in 2002 entered Keiser University expanding on her education, graduating and receiving her degree in Computer Graphics and Design. Upon completion of her degree Diane was immediately contracted by a very prominent and innovative company where she eagerly and energetically produced an extensive portfolio. While gaining recognition, experience and cultivating a successful career, Diane's love for the circus, the arts and traveling never diminished. This prompted her decision to pursue her life- long ambition of "making her passion her purpose," and create her own company, an artistically and conceptually modern medium beneficial to the entire entertainment industry.
Rolanda Kaiser Andrade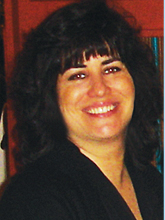 Rolanda grew up extremely proud of her family and circus background.
After graduating from Florida State University, Rolanda logically pursued a
career that was undeniably near and dear to her heart. Heading to California,
she began her career at Perry Marshall Advertising, later Circus Vargas and K&M Inc. where she honed her skills in marketing, advertising, promotions and publicity for over a decade. Returning to her hometown of Sarasota, Rolanda accepted a position as Convention, Trade Show & Seminar Coordinator for Indigo Investments & Microstar Research where she used her circus savvy to benefit a burgeoning investment trading corporation. Never relinquishing the circus life completely, Rolanda eagerly returned to doing what she does best, marketing and promoting the entertainment business with the class & respect it deserves. Her work is her passion and she believes irrefutably that "there's no people like show-people".